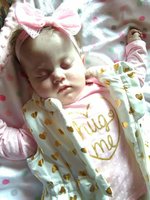 Grace Lynn Nestor

Grace Lynn Nestor,
13 months of age, of Kingwood, WV, passed away Saturday, December 23, 2017, at Preston Memorial Hospital, Kingwood.
The infant daughter of Todd Allen Nestor and Jenny M. Jones, she was born November 22, 2016, in Morgantown, WV.
In addition to her parents, Grace is survived by seven brothers and sisters: Anthony, Brianna, Jillian, Tristan, and Gavin Nestor and Chailyn Taylor and Treston Trotto; paternal grandmother, Helen Nestor; maternal grandparents, Lisa Jones and Danny Fullmer; and several aunts, uncles and cousins.
Graveside services will be held at the convenience of the family in the Fairview Cemetery, Bruceton Mills (Pisgah), WV, with Pastor Michael Argabrite officiating.
Carl R. Spear Funeral Home in Brandonville-Bruceton Mills, WV will be assisting the family with the memorial service.
The family wishes to extend a special thank you to the WV Caring (Hospice) for their assistance in caring for Grace.
The father and mother request that memorial condolences be made to them at 203 Pleasant Ave., Apt., B17, Kingwood, WV 26537.