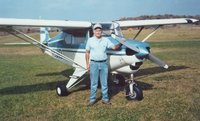 Kenneth Warren Chidester

Kenneth Warren Chidester, Sr.,
87, of Bruceton Mills (Cherry Grove Community), WV, passed away Friday, April 6, 2018, at his home.
The son of the late Russell W. and Goldie Grace Friend Chidester, he was born May 30, 1930, in Hazelton, WV.
Kenneth was a member of the Mt. Dale Church of the Brethren and was a retired truck and equipment operator. He enjoyed flying, motorcycling, farming, hunting and fishing.
He is survived by his wife, Helen Schmidle Chidester; two sons and their spouses: Kenny Jr. and Cheryl Chidester of Bruceton Mills and Steve and Shirley Chidester of Fairmont, WV; a daughter, Michela Livengood and her companion, Maxwell Helmick, of Bruceton Mills; a sister, Helen Shriver of Front Royal, VA; eleven grandchildren and twenty nine great grandchildren.
In addition to his parents, he was preceded in death by a daughter, Penny Graham and two grandchildren.
Family and friends may call the Carl R. Spear Funeral Home in Brandonville-Bruceton Mills, WV, Sunday, from 4-6 p.m., and Monday, April 9, 2018, from 10:00 a.m. until 11:00 a.m. service in the funeral chapel, with Pastor Lewis Beachy officiating. Burial will follow in the Centenary Cemetery, Bruceton Mills, WV.
Family request in lieu of flowers, memorial contributions be made to Amedisys Hospice Care, 5006 Mid-Atlantic Dr., Morgantown, WV 26508.