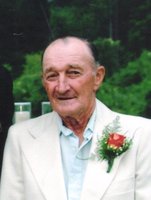 James William Seese
James William Seese,
87, of Bruceton Mills, WV, died Sunday, October 8, 2017, at the West Virginia Veterans Nursing Facility in Clarksburg, WV.
The son of the late Charles H. and Ruth Guthrie Seese, he was born August 6, 1930, in a home in Brandonville, WV, and was delivered by Dr. A.G. DeFoe.
After graduating from Bruceton High School, he enlisted in the United States Air Force during the Korean War and served as an aircraft mechanic. Afterwards, he worked as a coal miner at various mines and retired as a roof bolter at the Osage #3 mine. However, his biggest passion in life was his farm and his Black Angus cattle.
James is survived by a son and his spouse, Luke and Brenda Seese of Bruceton Mills; a daughter and her spouse, Anita Clark and Richard Nieman of Kila, Montana; three grandchildren of Bruceton Mills: Eric Clark and his spouse, Kelsey, of Albright, Casey Seese, and Carla Dixon and her spouse, Michael; two great-grandchildren, Lane Clark and Finley Clark; four brothers of Bruceton Mills: Tom Seese, Dale Seese and spouse, Bonny, David Seese and spouse, Sheila, and Mark Seese and spouse, Ellen; a sister, Thelma Wolfe, of Hazelton, WV; and his former spouse, Roberta Jacobs, of Bruceton Mills.
The family would like to extend a special thank you to the staff of the WV Veterans Nursing Facility for their loving care and respect that was given to James.
Family and friends may call at the Carl R. Spear Funeral Home in Brandonville-Bruceton Mills, Tuesday, from 5-8 p.m., and Wednesday, October 11, 2017, from 10:00 a.m. until the 11:00 a.m. service in the funeral home, with Rev. Vicki D. Sheppard officiating.
Burial will follow in the West Virginia National Cemetery, Grafton, WV.
Condolences may be sent to the family at spearfuneralhome.net.