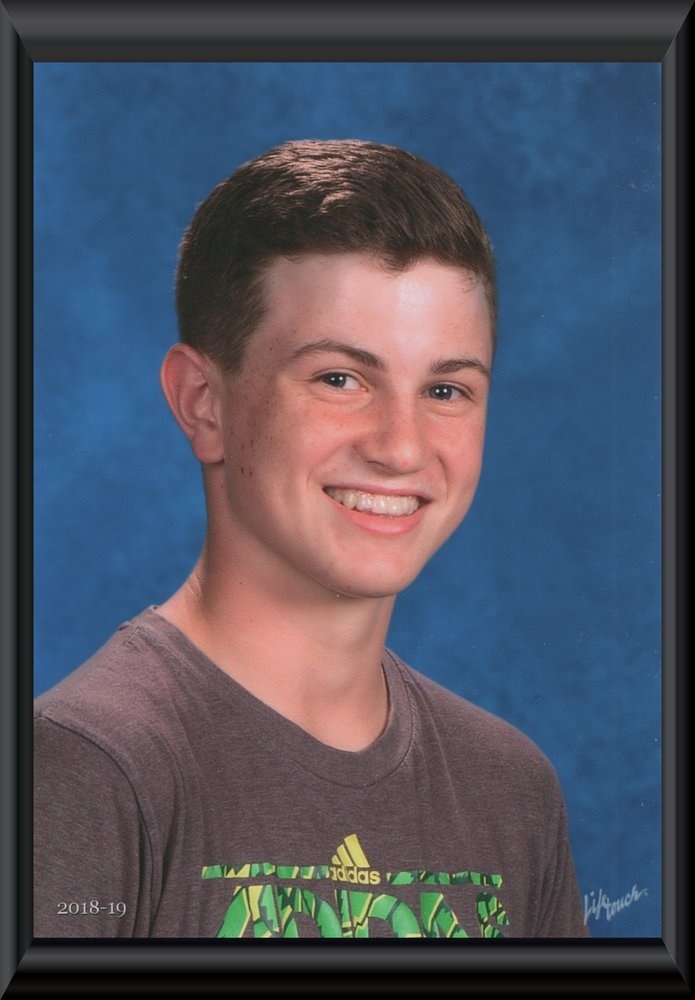 Obituary of Brayden James Bishoff
Brayden James Bishoff,
age 15, passed peacefully from this life on Thursday, February 14, 2019, at WVU Ruby Memorial Hospital, surrounded by his family. He was born on January 1, 2004, in Morgantown, WV, to Duane and Tammy Bishoff. addition to his parents, he is survived by two siblings: Bryce Thomas Bishoff, age 16, and Brynna Elizabeth Bishoff, age 12; maternal grandparents, Terry and Nancy Feather; his Aunt Tracy Feather; and his maternal great grandmother, Elsie Everly, of the Bruceton Mills community. He is also survived by close family friends, Vickie D'Avens and Nora Martin; and many aunts, uncles and cousins. He was preceded in death by his paternal grandparents, Delmer and Helen Bishoff, and step grandmother, Wilda Bishoff.
Anyone who knew Brayden, experienced his ornery and contagious sense of humor. He tried to keep everyone laughing, while also being there for his friends. He was selfless, huge hearted, and a natural comedian. From his practical jokes to his imitation voices, he could turn anger or sadness into a smile with little effort.
Brayden was a freshman at Preston High School where he was a participant in the Community and Technical Education program, in which he was taking Electricity 1 and Introduction to Agriculture. He was a member of FFA, the Lenox Loyal Workers 4-H Club, and the Preston County Livestock Association for 6 years.
Brayden loved to exhibit animals at the Preston County Buckwheat Festival, the State Fair of WV, and at various other shows around the state and region. He showed lambs, goats, steers and heifers and made friends from all over the area while showing livestock.
Brayden enjoyed playing sports, which included basketball and baseball and was an outdoorsman who loved to hunt and fish. He enjoyed building things and tearing things apart to fix them was a passion of his.
He enjoyed spending time with his friends and family and was loved by many. Little kids gravitated towards Brayden, and he loved playing with them. He helped others by building them up and was always willing to lend a hand at a show, around the house, or on the farm. Another favorite activity was making hay with his Pappy each summer and helping Nanny and Mam. He wanted to build a house and garage across the road from where he grew up to be able to continue working on the farm with his family.
He loved diesel trucks and was constantly researching them and learning more about them. The sound of a diesel and the roll of black smoke was an obsession. He also enjoyed riding ATV's-- the dirtier the ride the better!
The family will welcome friends at the Apostolic Life Tabernacle, located on N Preston Hwy, in Valley Point, WV, on Monday, February 18, from 1:00 to 8:00 p.m., and on Tuesday, February 19, 2019, from 10:00 a.m., until the 11:00 a.m. celebration of life, with Pastor Craig Bolyard officiating. We asked that you wear your jeans and boots because Brayden would have wanted it that way.
The Bishoff family would like to extend their gratitude to all the staff at the WVU Medicine's Children's Hospital, specifically those in the Pediatric Intensive Care Unit for their attentiveness and loving care.
The family chose to honor Brayden by donating his organs so that their tragedy can help others.
In lieu of flowers, memorial donations may be made to the Brayden Bishoff Memorial Fund, c/o Peggy Galloway CPA, PO Box 398, Bruceton Mills, WV 26525.
The Carl R. Spear Funeral Home in Brandonville-Bruceton Mills, WV, is assisting the family with funeral arrangements. Condolences: spearfuneralhome.net